Healthy Cockatils?
Real. Delicious. Ready to Drink.
Simplicity Cold-Pressed Cocktails, based in Indianapolis, IN has launched the country's first ready-to-drink, cold-pressed cocktails.

Simplicity cold presses only the finest, freshest, real whole produce mixed with top shelf spirits to bring you the finest of health & happiness in every sip...brought to you by people who love both.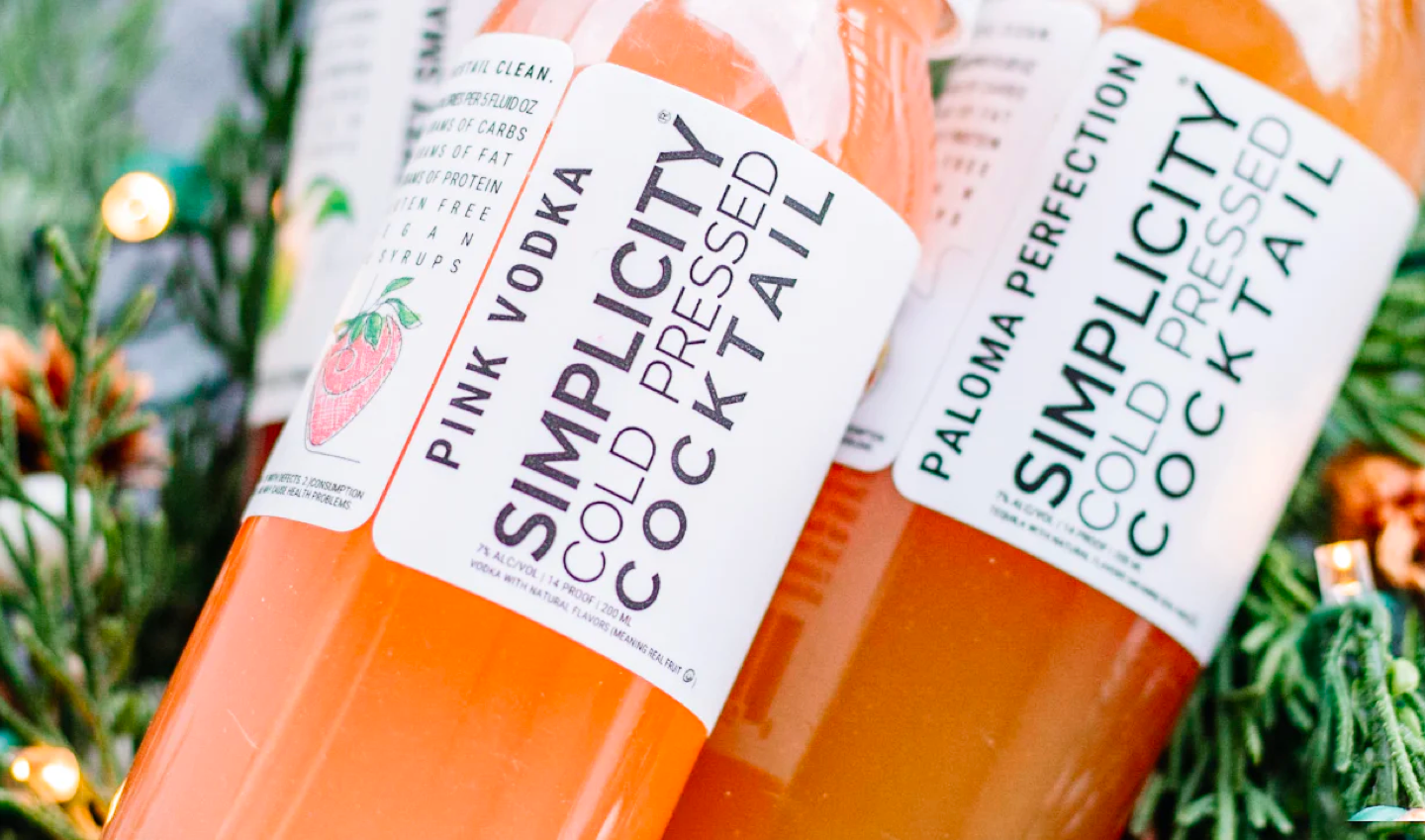 Cocktail Clean
Zero Grams of Added Sugars
No Frozen Purees
No Artificial Coloring
100% Fresh Whole Produce
Vegan
No Syrups
100% Gluten Free
Nothing Artificial
Low Calories
Low Carbs
Plant Based Certified
Kosher Certified
The Bar is Open
Fresh Whiskey Smash

Premium Whiskey

+ Cold-Pressed

Apple, Lemon & Ginger Juice



















69 Calories/ 4

Grams Carb

0 Grams of Fat

7% ALCVOL | 14

ROOF | 200 ML

Paloma Perfection

Premium Tequila

+ Cold-Pressed

Grapefruit, Apple & Lemon Juice



















65 Calories/ 2

Grams Carb

0 Grams of Fat

7% ALCVOL | 14

ROOF | 200 ML

Pink Vodka

Premium Vodka +

Coconut Water,

Purified Water,

Coconut Oil, Cold-

Pressed Lemon,

Lime, Strawberry,

Beet Juice &

a drop of French

Vanilla Stevia




55 Calories / 3

Grams Carbs

0 Grams of Fat

7% ALCVOL | 14

ROOF | 200 ML

Spicy Margarita

Premium Tequila

+ Purified Water, Cold-Pressed Agave & Cayenne for a Kick



















65 Calories/ 0

Grams Carb

0 Grams of Fat

7% ALCVOL | 14

ROOF | 200 ML